Echoewood Dog Training Area
Custom Tailored Country Club for Dogs

3623 State Route 104
Mexico, NY 13114




(315) 963-8403

242 Acres "This is probably the finest dog training area in the East"

Bob Reckart, Amberwood Kennels, Rome, OH 44085.
| | | |
| --- | --- | --- |
| | | We are pleased to host events for orgainzations at Echoewood: |

You can reserve certain areas in advance if you wish.

If you have not reserved an area, please check at the pavilion to see which areas are still available.

Please respect others space.

No poop bags or dead birds left behind, Please


Activities and Events:


Trainer Terry Price of Oakridge Kennels will be back this summer offering seminars & individual training sessions.




Golden Retriever Club of Central NY held it's WC/WCX test at Echoewood 9/22/13.

All five of the WCX qualifiers were Adirondac Goldens.
Adirondac Willow In The Wind, Adirondac Meadowbrae Free Spirit, Adirondac Hocus Pocus, Adirondac Kiss Me Karma and Adirondac Cedar Chest of Gold.


Lady shooters and gentlemen dog handlers all set to go at the 2013 Pheasants Forever Ladies Hunt.
The new pavilion was a great addition to the perfect day.


Echoewood:

Diane Sanfilippo and Sedona, all set to try the test at the FLRC fun day.






©2003 Tony C. Zappia

Season runs from April 15, thru Nov 1
Roads and weather permitting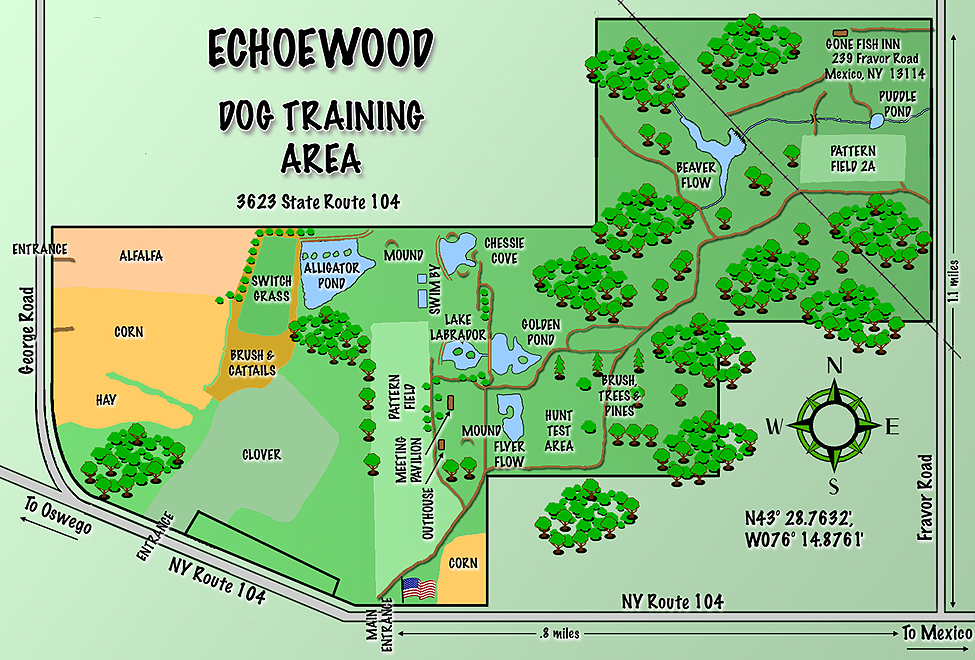 Click here for a larger view of the map.
---